---
Harold (Hal) A. O'Brien Jr., Ph.D.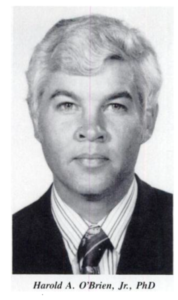 Biography
Dr. Hal O'Brien's illustrious professional career of more than 50 years was launched after being awarded his Ph.D. in Chemistry from the University of Tennessee. Along the way he developed expertise in accelerator and reactor-based nuclear reaction research, proton-induced spallation studies, radionuclide production, remote radionuclide handling, radiochemical processing, biomedical applications of radioisotopes, astrophysics and solar neutrino studies, nuclear facility operations, and accelerator transmutation of waste.
His many accomplishments include establishing and directing the Medical Radioisotopes Research program at Los Alamos from its inception in 1969 until 1985; developing the concept for remotely operating a high radiation radiolabeling facility. He also directed the development of 23 spallogenic radioisotopes of importance in medicine. His expertise has been sought for advice by numerous Federal agencies, industry, professional societies and, notably, he has been a Founding Member and Past President of the American Board of Science in Nuclear Medicine.
With his colleague Tom Verdon, MD, both having been Presidents of the Rocky Mountain Chapter of the SNM, they co-founded the High Country Nuclear Medicine Conference (HCNMC) in 1979. Their goal was to attract more national and international expert speakers, and to transform the meeting into a "Gordon"-style conference, where the attendees and nuclear medicine leaders from clinical, academia, industry and government could interact for the benefit of both the individual and the field. This format has contributed to the transformation of numerous individuals into leaders, and leaders into innovators. Dr. O'Brien personally kept this conference viable for over 25 years before its migration to the current Organizing Committee format.